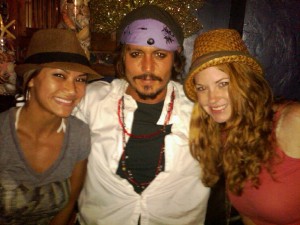 Celebrity Hangout: Where the Stars Spend their Vacation in Hawaii
Hawaii is great for breathtaking views and spectacular beaches, but what about the celebrities? It turns out that ordinary folks aren't the only ones to frequent the white sands on a vacation in Hawaii; plenty of celebrities also like to visit the islands and they like to do it in style. If you are on a star search during your vacation Hawaii, check out these favorite haunts of the celebs.
Pearl Ultra Lounge
This club is upscale all the way, which is why it has seen the likes of big-ticket names like Johnny Depp. This sexy guy was just recently seen at the Pearl Ultra, as was "Pirates" producer Jerry Bruckheimer, director Rob Marshall and co-star Geoffrey Rush, according to Haute Living Magazine. Other notables at the Pearl Ultra include David Beckham and Tony Romo. If you are visiting Oahu, check out the Pearl Ultra.
Sansei Seafood Restaurant and Sushi Bar
This popular spot on Maui recently enjoyed an impromptu performance by Dave Matthews, who treated the crowd to his own karaoke rendition of Rick James' "Super Freak". The sighting was reported by DMBnews.net, which also stated that Mr. Matthews was introduced to the crowd as David Schwimmer from "Friends" by the establishment manager before his performance. This restaurant is also located on Oahu, right on Waikiki Beach.
Charleys Maui
For great food and potential star sightings during your vacation Hawaii on Maui, Charleys is the place to go. This restaurant is a regular hangout for Willie Nelson, according to the business's website. It has also been the locale for rock stars, business leaders and celebrities of all types. In addition, Charleys is a favorite of the locals, with a long-standing tradition of providing great food and drinks in a casual, comfortable environment.
Longhi's
Longhi's is located in Lahaina, Maui, and offers the kind of atmosphere that naturally attracts celebrities on vacation in Hawaii. Check out the business's website and you will find a long list of celebrity endorsements, including George Benson, James Coburn and Kareem Abdul-jabbar.
Finding the stars on your vacation Hawaii isn't hard when you know where to look. Check out these favorite haunts and see who's lurking on the islands, or let Hawaii Guide Me lead you to the best star-studded places on your vacation in Hawaii.
Other Hawaii Travel Posts That May be of Interest