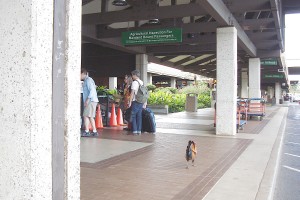 Hawaii Agricultural Restrictions – Do your part!
Hawaii is such a dreamy place. It is a tropical paradise like no other. The Hawaiian Islands are the home of unique eco-systems, endemic species and more. It is just for that reason that governmental agencies restrict the movement of certain plants, animals and insects coming into Hawaii as well as leaving Hawaii.
Arriving in Hawaii:
All passengers arriving in Hawaii from the Continental USA will be required to fill out an Agricultural Declaration Form prior to landing in the islands. This Hawaii State Agricultural Form is short and which asks all arriving passengers to voluntarily declare prohibited items upon arrival. Most common fruits and vegetables are typically allowed in after inspection at one of the several agricultural declaration desks located at the airport. Poultry and domesticated animals like dogs and cats are subject to strict procedures and paperwork for airport release or long quarantine will be required immediately upon arrival. Hawaii has strict prohibitions on bringing in crabs, snakes, bees, frogs, piranha, pigeons, parrots and more.
Departing Hawaii:
All passengers are required by the United States Department of Agriculture to consent to screening for certain items prior to departing the islands. These checkpoints look similar to TSA screening lines but are in place for the detection and containment of certain items that have been deemed hazardous to crop and other agriculture on the Continental US. Items that are prohibited include sweet potatoes, sugarcane, gardenias, many fresh fruits, berries especially raw coffee berries. Items including pineapples, seashells, beach sand and coconuts are allowed only after inspection.
So, for those traveling in and out of our beautiful state for that wonderful Hawaii vacation, remember to sign and declare any agricultural items upon arrival, and for those departing the islands, it's best to not seal boxes, coolers and luggage prior to arriving at the airport in the event agricultural personnel request hand searches.
Other Hawaii Travel Posts That May be of Interest