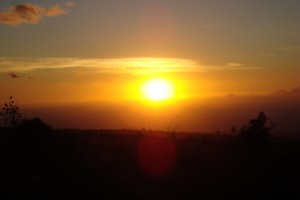 As the afternoon shadows grow longer the sunbathers begin to disappear and the surfers bring in their boards and the beach boys bring in canoes and catamarans getting closer to calling it a day.
The scent of sunscreen in the salty air fades as the temperatures cool and is replaced by an alluring scent of prime steaks and fresh local fish grilling on local mesquite wood called kiawe. Waikiki comes alive with torchlight, city lights and eventually moonlight. It's the perfect way to a vacation Hawaii style.
Here are a few fun things to do at sunset in Waikiki:
Watch for the Green Flash
It is not possible to view the green flash in Waikiki all year long since the sunsets over the Waianae mountain range for some of the year, however, in the summer it is perfectly positioned to drop directly into the ocean off Waikiki. The resulting green flash is fascinating. Look for it at the very moment the sun slips away.
Sunset Torch Lighting Ceremony
Every evening at 6pm the grounds of the Hilton Hawaiian Village become alive. The evening is heralded in by torch bearers make their way through the hotel compound to fire up the hundreds of torches each and every evening. Worth seeing at least once.
Kuhio Beach Hula Show
This show is a free gathering of island talent for an hour of island culture and entertainment for anyone at the Kuhio Hula Mound along Kuhio Beach. The show begins at sunset and getting there early to find the perfect spot is a necessity. The various hula halau or troupes are island dance companies that show off their students. The dancers are all residents and are as young as three years old.
Friday Night Hula Show and Fireworks at the Hilton Hawaiian Village
This is one of the more popular events in Waikiki. The show begins each Friday at sunset with live music, hula, drums, fire knife dancers, keiki dancers and more. The show is followed by a glorious although brief fireworks show. There is an admission for poolside seating but if you prefer to stand, there is no charge to view the show from just outside the seating area.
Watch the Moon Rise Over Diamond Head
One of the more romantic views of Waikiki is when the harvest moon rises up over Diamond Head on a warm summer night. Oversized and glowing with a yellow hue, the natural spectacular is worthy of a picture or two. Some nights it will be so large it seems touchable.
Other Hawaii Travel Posts That May be of Interest