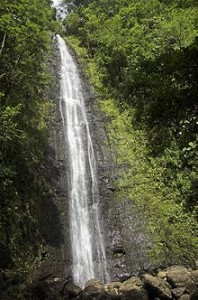 The rainforest canopies and stands of bamboo along this trail are so close to Waikiki hotels that it makes for the perfect hike anytime of the day. It's a short and pleasant hike that ends at the base of Manoa Falls where fresh stream water tumbles over a high cliff and into a small pool of icy water perfect for a refreshing dip. It's a wonderful spot on Oahu to sit and relax and affords many picture taking opportunities.
The ride from Waikiki takes barely twenty minutes through business and shopping areas, past huge homes and city parks. Toward the back of the valley the landscape and atmosphere changes from quiet cul de sacs to an amazing tropical forest where the trees and vegetation tower high over the roadway and the heat of the tropical sun is replaced by cooler temperatures and lots of shade.
Once in the back of the Manoa Valley, there is parking is available in a nearby lot for a nominal fee or free along the nearby neighborhood streets. Be sure to lock the car and never leave any valuables in the car.
To get to the trailhead follow the roadway behind the parking lot on foot up past the entrance to Lyon Arboretum and continue to the right and through the old parking area past the fence. But if you don't have the time to map this adventure out in advance, download a Hawaii travel app for quick and easy information for your vacation Hawaii style.
The trail is one that is surprising short and well maintained.  It cuts through the forest in almost a straight path to the base of the waterfall by passing over the valley stream and through thick stands of bamboo and other vegetation. Fragrant flowers are not uncommon and the sounds of rustling trees and birds and omnipresent.  This trail is also known to be muddy and slippery in spots and even more so after heavy downpours, but overall, he trail is a family friendly and enjoyable.
Manoa Falls Trail
Trail Length: 0.8 mi.
Terrain: Rainforest. Lush valley
Activity: Pedestrian
Elevation: 800 ft
Lottie Tagupa is a native Hawaiian, born and raised on the island of Oahu. She has been writing about Hawaii for over 10 years and currently lives in Waimea on the Big Island.
Other Hawaii Travel Posts That May be of Interest