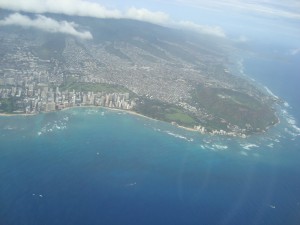 It's been called the Gathering Place and the Financial Center of the Pacific. Honolulu is that and certainly this and much, much more. Honolulu is a dynamic, vibrant, bustling urban center positioned along the south shore of O'ahu that is unique in culture, atmosphere and attitude. The first glimpses from 35,000 feet will be of endless stretches of white sand beaches, flourishing green mountain ranges, astonishing spectrum of blues of the vast Pacific Ocean and the billowy clouds caressing the misty mountain range. On approach to the airport, the city comes into view along with the collection of towering hotels, condominiums and office buildings that fill the south shore from downtown to Diamond Head. The island's deep roots in ethnic diversity have evolved into a unique set of values and style. The host culture is based on native Hawaiian values and all those who visit or make this place their home must understand that the Aloha Spirit is a structure of selflessness and diverse cultural acceptance that has become necessary to living peacefully on such a small island. Those who choose endure the high cost of living and other limitations of living on one of the most remote islands in the world do so because they have to come to realize that there is no place like Hawaii.
While rural areas like the North Shore and the Waianae coast remain untouched and full of natural beauty, Honolulu is also the home of some of the world's most famous beaches like Waimea and Sunset, luxurious resorts like the Kahala Resort, the Hilton Hawaiian Village and some of the most beautiful panoramic views like Diamond Head Lookout and Nuuanu Pali Wayside Park.
Daytime brings fantastic shopping, surfing at Waikiki Beach, world class resort spas like Olokino, and Na Hoola, snorkeling at Hanauma Bay, people watching, and must-see attractions like Waikiki Aquarium, Iolani Palace, Arizona Memorial and the Polynesian Cultural Center.
The restaurant scene is as culturally diverse as the population, and it must be noted that islanders have cut their eye teeth on forks and chopsticks and have been enjoying a myriad of sushi and ahi tuna generations before anyone on the mainland.
The club and lounge scene runs the gamut between beachfront bikini bars like Duke's to chic wine bars like Amuse and lately the trend is to escape the traditional Waikiki resort setting in search of more interesting and genuine urban haunts.
Oahu resonates with the young, urban and stylish offering everything from world class beaches, designer shopping and a heady tropical laden nightlife. Those who are shy about arriving in Honolulu without a clue can download a Hawaii travel app to keep the excitinment going 24/7.
Lottie Tagupa is a native Hawaiian, born and raised on the island of Oahu. She has been writing about Hawaii for over 10 years and currently lives in Waimea on the Big Island.
Other Hawaii Travel Posts That May be of Interest