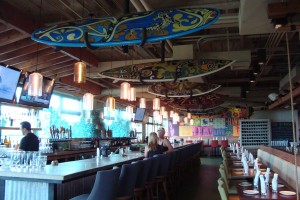 Maui's Monkeypod Kitchen by Merriman
This contemporary and stylish bistro had been heralded for months as Peter Merriman's latest casual eatery. This concept for Merriman is not a new one.  His Market Café on the Big Island is a hit and the sister eatery in Koloa, Kauai is trending along the same lines.
I felt that there was no particular rush to experience what Monkeypod Kitchen had to offer. Two excellent Merriman experiences are readily available on the Big Island so it seemed like nothing fresh, at least in my mind. I am not a person to rush into the next newest restaurant any earlier than four to five months are opening. Trying a new eatery before that does not allow the staff to settle in and management to get the kinks out. Therefore, I had passed it up twice on previous trips to Maui not thinking it could be anything remarkable. However, after a less than stellar experience for a mid-day weekend meal at Gannon's earlier in the month, and knowing Spago would not be open until dinner, I finally conceded to head over to the Wailea Gateway Center to find me a parking spot and a table for lunch before heading back to the Big Island.
I arrived early for my one o'clock, reservation, more than 30 minutes early. The parking lot was more empty than full and a great corner spot seemed to be just waiting for me and my rented compact car. So far, so good, I thought.
Monkeypod Kitchen occupies the entire upper floor of one of the two buildings at the corner of Piilani Highway and Wailea Ike Drive. On the day I visited, the center had only a handful of tenants. No doubt, with time it will be a collection of tourist services, specialty shops and perhaps a plate lunch place. The center is located on the edge of the Wailea resort upslope from all those luxury hotels with names like Four Seasons and Fairmont. It's a new direction for those in Wailea to consider when it comes to dining.
Along with a small elevator, there is a wide but rather steep stairway that leads to the main entrance on the second level. The entrance is adjacent to the large covered wrap around lanai. On one side the views are of the passing traffic along Wailea Ike Drive and the other offers slivers of views of the ocean.
The restaurant is divided into two areas. The bar and lounge is on the left and the main dining area on the right. The open kitchen is toward the rear and competes for attention with the long bar that runs almost the entire length of the restaurant.
The décor is an odd blend of tropical, urban with stained concrete floors an open loft-like ceiling with exposed duct and support beams. Corrugated metal is used for accents throughout the main dining area along with a mix of dark and light woods and brightly colored geometric prints.
My favorite décor element was the large collection of glass balls that are arranged in an oversized glass box behind the bar. The juxtaposition of vintage fishing floats in a contemporary setting brought memories of searching the beaches after rough seas for these shoreline treasures.
The reception desk is just inside the main entrance. I was greeted promptly and seated immediately. Even though the restaurant was quiet that day, there was no shortage of staff.
That day occupying the large circular banquette were several business men sporting contemporary Aloha shirts and the latest and greatest in portable technology. They were discussing new iPhone and Android travel apps over local beer and dishes of blue crab cakes, kalua pig sliders and a plate of taco poke and ceviche. In the far corner a young couple sharing a roasted butternut squash wood fired pizza and browsing though a free Hawaii guide while trying to decide what to do after lunch.
The menu and my obligatory lunchtime ice tea arrived swiftly and I decided on the ahi tacos as an appetizer, and settled for the ever popular Hamakua Mushroom Pizza. The ahi tacos were interesting. Poke stuffed into deep fried won ton wrappers and topped with creamy avocado sauce. The presentation was colorful, but the poke seemed more salty than flavorful.
Needless to say the mushroom pizza was done perfectly. I can't decide if they try hard to get this pizza perfect each time or is it just too easy to mess up? Regardless, I appreciate the farm fresh ingredients. The flavors of parmesan, thyme and silky Hamakua mushrooms are enjoyable without being too heavy. The wood-fired crust makes it all that more special. Finished off lunch with a slice of their banana cream pie. Tasty, but the added banana flavoring overpowered the other more subtle flavors.
Overall my experience at Monkeypod Kitchen was far better than I had expected. The service was knowledgeable attentive, efficient and although the prices were a bit high it was worth it. The Monkeypod Kitchen's menu is creative, contemporary and featured local products and farm fresh ingredients. It's a wonderful spot for pau hana drinks, business lunches and even casual island dinners where I suspect dinner reservations are the hottest on Maui.
Monkeypod Kitchen
10 Wailea Gateway Place, Unit B-201
Kihei, Hawaii 96753
Tel: 808-891-2322
www.monkeypodkitchen.com
Lottie Tagupa is a native Hawaiian, born and raised on the island of Oahu. She has been writing about Hawaii for over 10 years and currently lives in Waimea on the Big Island
Other Hawaii Travel Posts That May be of Interest