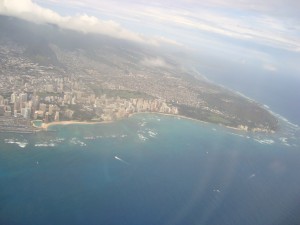 Which Island is Best for Me?
 For many,  a trip to Hawaii is a once in a lifetime experience. It's expensive, it is far away and all the decisions are, well downright scary. One of the first big decisions about a Hawaiian vacation is which island to choose. There are six islands that have accommodations of various types. Each has it's own personality, and there is certainly one that will become a favorite.
There are Hawaii travel apps that offer extensive information on restaurants, beaches and activities, but none typically can gather the essence of the individual islands. So instead of expounding on that, here is the low-down on what each island is like for those making those monumental Hawaii decisions.
The small and very quiet island of Molokai offers miles of remote beaches, and several hiking trails. It is not particularly the best choice for the first time Hawaii visitor. Hotels are plain and unexciting and activities, and restaurants are few and far between. Molokai is perfect for a day-trip option. Starting ideally from Maui the Molokai ferry combines a trans-channel crossing that when done during winter can include incredible views of humpback whales. Once on Molokai, one can opt for an exhilarating mule-ride or a flight down to the Kalaupapa peninsula. A visit to this leper colony is filled with odd contrast of serene beauty and a history of human suffering.  
The Pineapple Island or Lanai is another of the smaller islands in Hawaii. Accommodations are limited an independently run eleven room hotel and two mega-resorts run by the Four Seasons Resorts. The island is quite isolated and small with dining and activities limited to what the larger resorts offer. Lanai is best for a daytrip to lunch at either Koele Lodge or the Manele Bay or golf the resorts specrtacular courses.
Maui is currently experiencing a surge of popularity. A combination of natural beauty, gorgeous beaches, luxurious resorts and interesting activities make this the island that is the destination of choice for most. Families come in large groups to occupy well-appointed timeshare resorts. Honeymooners find the air thick with romance and hunker-down in luxury suites.  Others find everything from budget surf shacks to simple condos to make that vacation Hawaiian style special. Maui appeals to those who prefer daytime activities and good dining options and family oriented activities. Many find that the nightlife on Maui is somewhat lacking. The few clubs in the resort areas tend to interesting but not lively. Maui's most and best activities are the fantastic snorkeling day-trips to Molokini, biking down Haleakala and the road to Hana.  
Kauai or the Garden Island is one of the simpler and natural in the islands. The island offers an easy to navigate setting with one perimeter road that encircles the island. The north shore and the interior of the island offers many opportunities for hiking and other outdoor activities, but the island does not have a large variety of elevations to offer a lot of variety of  activities. Kauai offers limited nightlife opportunities.  Although there are many small bars in hotels and resorts. Kauai is an island for nature lovers and those who want to get away from it all. Campers, backpackers and newlyweds will enjoy the most.   
The Big Island offers the most opportunities for those who love mountains, ocean, rainforests and dry wide open coastal areas. Larger than all the other islands put together, the Big Island is more of a vertical island than the others with active volcanoes,  snow covered peaks, rainforests and waterfalls on the windward side, and gorgeous white sand beaches on the leeward side. Like the other islands nightlife is somewhat limited,  but options for a night of bar-hopping is certainly a viable option along Alii Drive in Kona.
Oahu is the most lively. Those who are looking for an active vacation filled with sightseeing, nightlife shopping and beaches should consider Oahu at least for a couple of days. Visiting the Arizona memorial and the Polynesian Cultural center along with a day of snorkeling at Hanauma Bay are certainly the must-do activities on Oahu. Many consider Oahu too busy of an island to enjoy. Lots of congestion and the lack of many quiet spots make other islands more popular. However, Oahu has many sophisticated resorts and an incredible nightlife scene. Bars with live entertainment stay open until 4am. Waikiki offers lots of other nightlife options, including shows, a long list of bars and restaurants.  Oahu offers a lot to keel the independent traveler occupied. Those with iPhone apps and Android travel apps find that they are quite comfortable finding their way around the island on their own. Resort pools are usually the scene of the younger set with their noses buried in their Hawaii guide apps trying to decide their strategy for an evening of fun and entertainment.
Now for those who still cannot decide there are options. One is to split a vacation between islands. Island-hopping is a popular solution to indecision and offers travelers a way to have the best of two islands. Limit the island hopping to no more than two islands for the best experience. Anything more is just to complicated.
There is an exception to this rule. It's called the inter-island cruise. NCL or Norwegian Cruise Lines offer seven-day cruises that visit the islands of Maui and Kauai and the Big Island ports of Hilo and Kona. This seven-day trip combined with a few days on Oahu is the best for first time visitors who are hopelessly undecided.
Lottie Tagupa is a native Hawaiian, born and raised on the island of Oahu. She has been writing about Hawaii for over 10 years and currently lives in Waimea on the Big Island.
Other Hawaii Travel Posts That May be of Interest