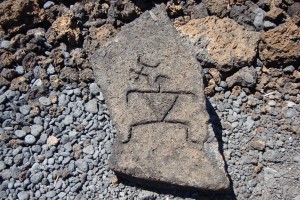 Pohaku of Hawaii Nei
Tiny or cliff size, ancient Hawaiians held rocks, stones and other sites very sacred. The sites were typically places where one can seek refuge, show respect for the gods, to give birth and to plot celestial events. Many of these sites and rocks or pohaku are still located throughout the islands. From The royal birthing stones at Wailua to the Naha stone in Hilo, these rocks are forever significant in the lives of ancient and modern Hawaiians.
Kauai's Birthing Stones
Amidst a large gathering of heiau, city of refuge and other ancient Hawaiian archeological sites, pohaku hoohanau is at first an unassuming collection of rocks set just of the main road in the Wailua River State Park. The site was probably the first of many across the islands. This particular site was the site was many royals were born up to and including Kauai's revered chief Kaumualii. Adjacent to the site is a cemetery where many of the royals are buried.
On an island with a population of one million, Oahu is filled with high-rises, highways, hotels and traffic. However, there are many sacred sites located throughout the island. One of the most significant is located in the heart of Waikiki. The collection of stones is surrounded by a fence and located just steps from the sand and surf in the very heart of Waikiki. These stones are endowed with the spirits of four great kahuna or priests from Tahiti.
Healing Stones of Maui
Near the center of all the activity of Lahaina, one can find ancient healing stones where those afflicted with illness would go to seek relief from fevers and other conditions. The stones sit in the water adjacent to the Lahaina Harbor in a setting that includes the ruins of an ancient palace and other historic structures. The setting is more of a place where visitors spend time away from the Maui hotels.
Hilo's Naha Stones
The Big Island has a collection of sacred sites that is bar far more extensive and preserved than any other island. The most significant stone on the island is by far the Naha stone. The large block shaped boulder sits in front of the Hilo State Library out in the open and easily visible from the street. Originally brought to the Big Island from Kauai, this stone was one that had powers that would establish royalty from the commoners.
Ancient Hawaiians are very connected to their deities, cultural and lifestyles through pohaku. Today, modern Hawaiians hold these rocks in revere as places that connect them to the ways of the ancient culture.
Hawaii Travel Advice: Removing or disturbing any of these rocks are unlawful and disrespectful.
Lottie Tagupa is a native Hawaiian, born and raised on the island of Oahu. She has been writing about Hawaii for over 10 years and currently lives in Waimea on the Big Island
Other Hawaii Travel Posts That May be of Interest