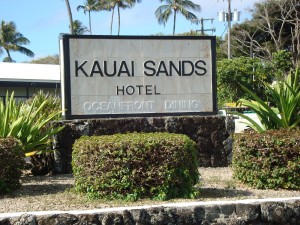 Kauai's Beachfront Bargains
Many overlook the Coconut Coast as the destination of choice for those who are interested in simple and affordable accommodations in Hawaii. Located just 14 minutes from the Lihue airport and big box stores in Lihue, there are a handful of bargains that many miss in the pursuit of an affordable Hawaii vacation.
The area is central to say the least. A 40 minute scenic drive separates the Coconut Coast from hiking the Na Pali Trail, lunching in Hanalei, snorkeling at Tunnels beach. Another 40 minutes separates the sunny beaches and upscale restaruants in Poipu.
The Coconut Coast  offers a more genuine island experience than one can expect from the larger resorts in Princeville or Poipu. The area is a mix of vacation rentals and hotels along the makai or ocean side of Kuhio Highwayand a collection of local neighborhoods on the inland or mauka side. Area stores, restaurants and shops are geared toward the local community so prices are more reasonable than in other resort areas.
Kauai Sands
One of the more popular budget hotels along the Coconut Coast. The hotel is casual, laid back. Rooms are clean simple and many are located so close to the ocean that one can be lulled to sleep by the sound of the surf crashing along the shore.
The Aston Aloha Beach Hotel
Located adjacent to Lydgate Park, those with kids will enjoy the idea of the large playground and sheltered cove for small children that is within walking distance. The hotel has a small pool, a lounge and two restaurants in addition guest rooms have mini-refrigerators, air-conditioning and cable TV.
Aston Islander on the Beach
This beachfront hotel is another Coconut Coast bargain with a great location. Located within walking distance to local shops and restaurants, this hotel is a favorite among neighbor island visitors. Hotel rooms are clean and comfortable and come with mini-refrigerators, DVD players, microwave ovens and more.
All of these properties regularly offer rooms for under $100 per night. They are perfect for those who plan extended stays, want something away from the other resorts and just want casual, comfortable, clean and cheap.
Hawaii Travel Advice: On weekdays, morning traffic to Lihue and afternoon traffic from Lihue tends to be heavy.
Lottie Tagupa is a native Hawaiian, born and raised on the island of Oahu. She has been writing about Hawaii for over 10 years and currently lives in Waimea on the Big Island.
Other Hawaii Travel Posts That May be of Interest