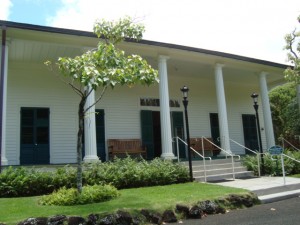 Hānaiakamālama – Royal Retreat in Nu'uanu
Located along thePali Highway in historical NuuanuValley, this historic home is shrouded from the highway by large monkey pod trees and a driveway that meanders from the busy highway to a private enclave. More commonly known as the Queen Emma's Summer Palace, this historic home has none of the drama and intrigue of the Iolani Palace  just 3 miles makai or toward the ocean in downtown Honolulu.
Originally built in 1847, it is one of the few remaining examples of Greek revival architecture in the islands. The single story home features a large veranda, several interior rooms and a lush garden and patio that is enveloped with mature trees and gardens. The floor to ceiling windows have shutters that open to the gardens and allow the trade winds to cool the home and to keep the frequent Nuuanu showers at bay.
Queen Emma was married Alexander Liholiho who ascended the throne in 1855 as King Kamehameha IV. The royal couple made major strides in improving the lives of their people. Queen Emma or Kaleleonalani was instrumental in raising funds for what now is the Queen's Medical Center in downtown Honolulu.
They traveled between the islands frequently spending time at Hulihee Palace on the Big Island. She also had a small cottage in Lawai on Kauai.
The royal couple has a son on May 20, 1858. He was named Albert Kauikeaouli Leiopapa a Kamehameha. The kingdom rejoiced on the birth of the prince. He was the delight of the kingdom. The Queen and Prince spent much of their time at Hānaiakamālama. He was baptised at Saint Andrews Cathedral in downtown Honolulu. QueenVictoria of England stood as the young prince's godmother. However after a mere 15 months later, he died of "brain fever."
Today, those who tour Hānaiakamālama can view the many of Queen Emma's belongings, furnishings, artifacts. One of the highlights of the tour is Prince Albert's koa wood cradle and gifts from Queen Victoria.
The palace is open daily from 9 a.m. to 4 p.m. and closed on major holidays. The palace is located at 2913 Pali Highway, Honolulu HI 96817. Telephone: 808-595-3167
Hawaii Travel Advice:  A visit to the palace is best when included as a part of a drive around the island.
Lottie Tagupa is a native Hawaiian, born and raised on the island of Oahu. She has been writing about Hawaii for over 10 years and currently lives in Waimea on the Big Island.
Other Hawaii Travel Posts That May be of Interest