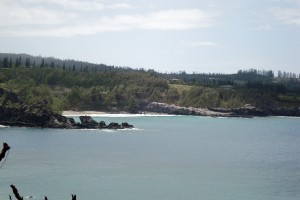 Hono a Piilani – The Bays of Piilani
It's a phrase that is tough for malihini (island visitors or newcomers) to pronounce. But the phrase is one that is well worth the effort to use. It is the name of the highway that stretches from central to West Maui including Lahaina, Kaanapali and Kapalua. It continues past the six bay of Piilani or Honua a Piilani. These bays Honokōwai, Honokeana Honokahua, Honolua, Honokōhau and Hononānā. The highway follows the ancient Alaloa or footpath that was constructed by Piilani, his familiy and entourage to travel to and from West Maui. Parts of the footpath are still visible in Honolua valley and above the modern road as id crosses the Pali to Ma'alaea.
Piilani was a chief. A very popular chief who ruled Maui prior to the unification of the Hawaiian Islands by King Kamehameha the Great. In the 16th century. Piilani's kingdom with the help of his son Kiha a Piilani encompassed the islands of Maui, Molokai and Lanai. Piilani would travel frequently travel to the bays to celebrate the seasonal festival of Makahiki but mostly because it was said that this was the only place on the island of Maui where he could see his entire kingdom. It was also an area where canoes departed for the island of Molokai and where Piilani's warriors were said to maintain camps.
Today, the six bay of Piilani are still as beautiful as they were in the days of Piilani. Sparkling and clear waters that range in colors from turquoise to indigo blue attract divers, surfers, snorkelers and swimmers to enjoy the white sand beaches and sunny skies.
Today Honoa a Piilani can still be visited. Honokowai is a beach park is located along the highway between Kaanapali and Kahana. Honokeana is a small cove just south of Napili Bay. Honokahua is located makai of the Ritz Carlton Resort in Kapalua and is the site of the largest ancient Hawaiian burial grounds in the islands. Honolua Bay is a popular spot for snorkelers and surfers. Honokōhau is a popular spot for experienced surfers who enjoy the thrill of large winter surf. Hoonana is a rarely visited cove that is located near Kahakuloa.
Hawaii Travel Advice: Most rental companies do not allow cars past Hononana.
Lottie Tagupa is a native Hawaiian, born and raised on the island of Oahu. She has been writing about Hawaii for over 10 years and currently lives in Waimea on the Big Island.
Other Hawaii Travel Posts That May be of Interest