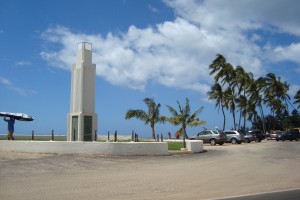 Oahu's North Shore Surf Spots
The first big winter surf swell has arrived and North Shore surfers have been gathering at their favorite spots. The seven miles between Haleiwa and Sunset Beach come alive during the period between October and April. This year will be no different. Surfers from the leeward beaches of Makaha will come to test their mettle. South shore surfers or townies will come from points along the south shore of Oahu to challenge the country waves. Tourists will gather to witness the awesome power of the surf and stop at the tiny town of Haleiwa to enjoy burgers and other treats. Others will stop at anyone of several shrimp trucks to enjoy an alfresco seafood meal.
Here is an overview on some of the world famous beaches on Oahu's North Shore in progression from Haleiwa to Sunset Beach.
Haleiwa
Located on the fringes of Haleiwa town, this beach offers wave heights typically between 2 and 10 feet with fast right breaking waves that are recommended for all levels of surfers.
Chun's Reef
Named after longtime resident John Chun who's family estate overlooked the sirf break, this spot is popular with kids and beginners, but can be challenging for experts during large surf.
Waimea
Certainly one of the more famous surf breaks in the world, Waimea is legendary for the deep water and powerful breaks. Winter waves typically range in size fro 10 to 30 feet. It's strictly for experts. The large winter swells draw crowds from all over the world.
Banzai Pipeline
It is said that there is no more perfect a wave in the world that what breaks at "the Pipe." The winter waves break over a submerged reef that make for powerful and perfectly barrel shaped waves.
Sunset
Just down the road from Pipeline, this beach is a popular gathering spot for many who come to enjoy expert surfers who challenge the waves that range in size from 3-15 feet. Sunset is large powerful right breaking surf that break on submerged reefs.
A trip to the North Shore should begin early and include sunscreen, a pair of binoculars, a hat and water. Be prepared for crowds when surfing contests are scheduled or during periods of huge winter swells.
Hawaii Travel Tip: A stop at the Dole Plantation for a pineapple tour is a nice addition to a  day on the North Shore.
Lottie Tagupa is a native Hawaiian, born and raised on the island of Oahu. She has been writing about Hawaii for over 10 years and currently lives in Waimea on the Big Island.
Other Hawaii Travel Posts That May be of Interest