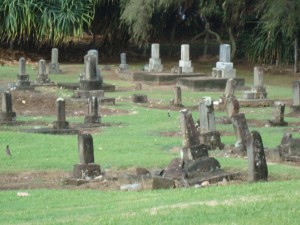 Hawaii Superstitions,  Hawaiian Folklore
The multi-cultural society in Hawaii is something all islanders are proud of. The blending of many ethnicities in the islands live under a rule of tolerance and a respect for each cultures uniqueness and the utmost respect for the Hawaiian or host culture. This holds true for superstitions. Here are a few examples of the more widely accepted superstitions.
Never take pork over the Pali. This superstition is purely Hawaiian and its origins come from a turbulent relationship Pele the Fire Goddess had with the strong willed half man, half pig, demi-god Kamapuaa. Today, transporting pork over the mountains through Nuuanu Valley on Oahu will not only anger the fire goddess, but it will disable any vehicle until the pork is removed.
Never take rocks from any volcano. Although more of an urban legend than a documented belief, this superstition is widely accepted one sprung from visitors to the Big Island removing rocks from the Hawaii Volcanoes National Park as a memento of their visit only to return them via mail with notes professing that the possession of the rocks have cursed them.
Never take bananas on a boat or fishing trip. Another superstition based on ancient Hawaiian folklore based on the superstition that bananas not only bring no fish, but bad luck. Book a Hawaii fishing or snorkel charter and most boat captains will not leave the dock with any bananas on board.
Never wear a closed flower lei when pregnant. This Hawaii superstition says that if a pregnant woman wears a closed lei the unborn baby will suffer umbilical cord strangulation during birth. Pregnant women can opt for an wear a freah flower open style lei instead.
Blessing ceremony. It's a tradition based in Hawaiian values. Blessings are done for a multitude of situations that include ground breaking, topping off on construction projects, housewarming, grand opening of a business and more.
Hawaii Travel Tip: Request an open lei when arranging for airport lei greetings for expectant mothers.
Lottie Tagupa is a native Hawaiian, born and raised on the island of Oahu. She has been writing about Hawaii for over 10 years and currently lives in Waimea on the Big Island.
Other Hawaii Travel Posts That May be of Interest