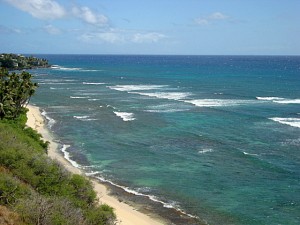 Diamond Head Lookout – Whales and Waves near Waikiki
For most who have had their day or two in the sun along the warm waters and white sands of world famous Waikiki Beach, may find a desire to venture out past the resort area to see more of this island called The Gathering Place.  A wonderful way to start an island without too much effort is to take a visit to the Diamond Head Lookout.
Not to be confused with the Diamond Head State park, this lookout is perfect for those who cannot undertake the stress of an uphill hike. Instead, this lookout can be accessed several ways. Just 2.5 miles from the center of Waikiki, those looking for an energetic early morning jog or an ambitious walk along the beach and through the park will find this route an especially enjoyable one.
For those who want to enjoy the vistas of the area there are several turnouts along Diamond Head road that will provide panoramic ocean views and on very clear days, views of Maui and even Molokai. On windy days, there are amazing views of expert windsurfers slicing though the waves and break neck speeds. On almost everyday there will be views of surfers riding waves at the popular Diamond Head surf break called Cliffs.
Visitors will find that searches for pods of dolphins are always in order. During the winter months, the lookout is a great location to spot Humpback whales frolicking in the Hawaiian waters.
The lookout is also the location of the historical Diamond Head Lighthouse, and the finishing line for the Transpac yacht race. For aviation buffs, there is a small memorial dedicated to Amelia Earhart's 1935 flight from Honolulu to Oakland.
From the center of Waikiki, the walking and driving route is almost identical. Just follow Kalakaaua Avenue past the Honolulu Zoo, along the park past the fountain. Continue along Diamond Head Road to the lookout.
Hawaii Travel Advice: Bring a pair of binoculars since the ones at the lookout rarely work correctly.
Lottie Tagupa is a native Hawaiian, born and raised on the island of Oahu. She has been writing about Hawaii for over 10 years and currently lives in Waimea on the Big Island.
Other Hawaii Travel Posts That May be of Interest