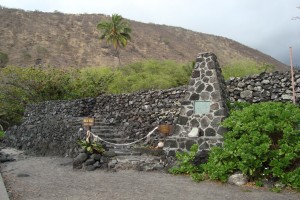 Heiau O Hawaii Nei
Ancient Hawaiian temples are and burial places are scattered throughout the islands. Some of the more notable include Puukohola along the Kohala Coast of the Big Island and Puu O Mahuka along Oahu's North Shore.
Heiau served many purposes. Some were dedicated to a particular deity, others were for sacrifice and war. Most are located in areas that offer panoramic ocean views, and most are a wonderful part of anyone's Hawaii vacation.
Here are a few of the lesser known heiau in the islands that are open for visitors.
Ahuena Heiau
Located adjacent to the pier in the heart of Kailua-Kona, this heiau is one of the more easily accessible. This well preserved heiau is known as the personal heiau of King Kamehameha the Great, it was also the site where he died on May 8 1819. It was the site where the course of cultural traditions were changed when Liholiho sat to eat with women.
Ulupo Heiau
Located on the windward side on the island fo Oahu, this heiau is one of the few intact heiau dedicated to fishing. Set along the edge of Kawai Nui Bay and at the edge of a 400 acres fishpond constructed by ancient Hawaiians. It also overlooked several fields of taro or lo'i. Today this heiau can be found at the rear of the Windward Oahu YMCA.
Ka Ulu o Laka Heiau
Located on the north shore of the Garden Island, this heiau is dedicated to the Hawaiian hula diety Laka, this heiau is just steps from the trailhead of the Na Pali Coast trail in Haena. Wedged between the cliffs and the ocean, this hula heiau is often visited by students of the hula to show respect and reverence.
Kukuipuka Heiau
Located in Kahakuloa on the island of Maui. This heiau is a part of a puu honua or a place of refuge. Much like the larger one at Honaunau on the Big Island, it is a place where anyone would be welcome and would be expected to be resolved of their wrongdoings.
Although most of the grander heiau have been preserved or at least documented, There are many others that remain lost to the valleys, fields and mountains of the islands. Many more have been destroyed by development of hotels and golf courses.
Hawaii Travel Advice: There are sacred areas. Do not touch or move any rocks, ever.
Lottie Tagupa is a native Hawaiian, born and raised on the island of Oahu. She has been writing about Hawaii for over 10 years and currently lives in Waimea on the Big Island.
Other Hawaii Travel Posts That May be of Interest