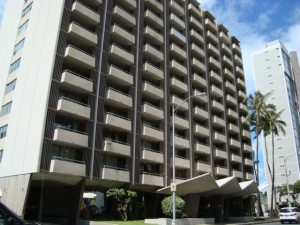 Barak Obama's Childhood Neighborhood
Many who journey into Waikiki via the H1 freeway are certain to have traversed the edges of the Barak Obama's childhood Oahu neighborhood. Referred to by locals at the Punahou-Pawaa area, it is in the heart of Honolulu. In 35 years it hasn't changed much. The monkey pod trees along neighborhood streets certainly have grown taller and broader, but they still retain that all important shading, noise buffering and cooling quality so important to life in a tropical climate. Young Obama was raised by his grandmother in the Punahou Circle Apartments.
Built in 1965 of the first apartments in the area, the well kept building stands proudly on the corner of South Beretania and Punahou Streets. It is a simple 10 story building with an open breezeway as a first floor. Each apartment has a balcony that faces Central Union Church, one of the largest protestant congregations in the islands. The apartment neighbors the Shinshu Kyokai Mission one of the more established Buddhist temples in the islands. Across the street is the only Mormon Temple in the heart of Honolulu. The area also has easy and convenient access to island wide public transportation. The area is also filled with many unique restaurants.  Around the corner on South King Street is a well-known chain ice cream spot where Barak worked as a teen.
There are a couple of well established schools within walking distance of the apartments. A couple of blocks away is Maryknoll School. The campus is consists of two separate locations. The high school is located along Punahou Street, while the grade school is located along Alexander Street.
The most prestigious school in the area and in fact the islands is Barak Obama's al ma mater, Punahou School. It was founded on a land that is the site of a historical fresh water spring called Ka Punahou. Established island missionaries on lands that were given by Hawaiian royalty, it was founded to insure a quality education for their children. It graduated its first class in 1858 as Oahu Collage. Today it is proud to say that it has produced heads of industry, professional athletes and now the first black President of the United States.
Hawaii Travel Advice: Visitors are welcome to visit the iconic lily pond and spring at the Punahou campus.
Lottie Tagupa is a native Hawaiian, born and raised on the island of Oahu. She has been writing about Hawaii for over 10 years and currently lives in Waimea on the Big Island.
Other Hawaii Travel Posts That May be of Interest