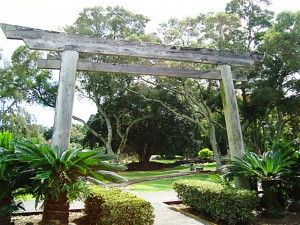 A Perfect Day In Hilo
For those who area interested in lovely views, interesting museums and waterfalls, a day in the bay front town of Hilo may just be the perfect way to spend the day. Quieter than the Oahu resort of Waikiki it is a laid back and un hurried setting that can be enjoyed by everyone.
Here are a few things to see and do when in Hilo:
Hawaiiana Live
Palace Theatre 38 Haili Street ~ Admission $5   ~ Showtime: Wednesdays 11am
Located on Haili Street a block from the bay front, the Neo Classical exterior is easy to spot among the other historical buildings on the block. Built and opened in 1925. One of the largest of the movie theatres in the state, it was a center of the islands entertainment and arts scene for more than 75 years. It features stadium style seating and an original Robert-Morton pipe organ. A visit to the historic palace theatre in downtown Hilo on Wednesday morning will not only provide an hour of enjoyable presentation of hula, mele and Hawaiian culture, it will also provide entrance to the historic Palace Theatre.
Rainbow Falls
Wailuku River State Park along Waianuenue Avenue  ~ Hours: Daylight hours only
Located a few blocks mauka past Hilo's largest public library and schools, this eighty foot waterfall is one of the easiest to access in the islands. it just takes a few steps from parking lot to enjoy the beauty of this ever flowing waterfall. The cave below the waterfall is said to be the home of Hina the mother of demi-god Maui.
Liluokalani Gardens
End of Lihiwai Street at Banyan Drive ~ Hours: 24 hours
Hilo's waterfront is a special place.. It is a collection of unique Hawaii beaches and brackish ponds. The best example of this is at Liliuokalani Gardens. The thirty-acre gardens features a walking path that winds over bridges and ponds past Japanese tea houses. The area also provides wonderful views of Hilo Bay.
Hilo Farmer's Market
400 Kamehameha Ave ~ Hours: Wednesday and Saturday 6a-4p
Smaller than the swap meet at the Aloha Stadium, this market offer many items unique to the Big Island. Located in the heart of downtown Hilo, this farmer's market has grown from a simple fruit and flower stand to include a large selection of art, souvenirs, t-shirts and other unique items. It is one of the best places in Hilo to buy island coffee, crafts and specialty items.
Lyman Museum
276 Haili Street ~ Admission $10 ~ Hours: Monday – Saturday 10a-430p
Not as large as the Bishop Museum on Oahu, this small and enjoyable museum is a brief exploration into the geological and cultural uniqueness of Hawaii. There is a unique climatic zone exhibit, a wonderful collection of shells and gems. The second floor offers a large collection of Hawaii artifacts and more.
Hawaii Travel Advice: Be sure to take a photo in front of the Tsunami clock
Lottie Tagupa is a native Hawaiian, born and raised on the island of Oahu. She has been writing about Hawaii for over 10 years and currently lives in Waimea on the Big Island
Other Hawaii Travel Posts That May be of Interest