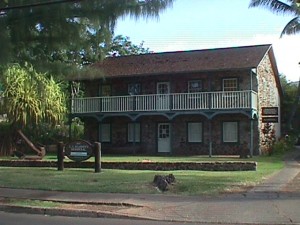 Lahaina – Whaling and Wahi Pana in West Maui
Lahaina has been many things to many people over the years. Today many know this small seaside town as a collection of shops, restaurants and bars where anyone will find a comfortable spot to luncheon seaside or Mai Tai at sunset. Many of the wooden buildings have original facades and lend to an atmosphere that is unique from anywhere else in the world. However, Lahaina is much more than trivialities of the tourist trade. Known as a wahi pana or celebrated place, Lahaina began as a native Hawaiian village that supported taro patches, heiau, royal residences and even healing stones.
The most important historical sites in Lahaina can be found along the oceanfront near the rows of tour boats and ferries.
Kamehameha I claimed Lahaina as the official seat of his kingdom after defeating Chief Kahekili in the famous battle of Kepaniwai at Iao in 1790. Lahaina then became the center of international commerce for the kingdom.
The site of the Lahaina home of King Kamehameha I is located near the waterfront. Built in 1803 the foundation of the famous brick palace is still intact. It was originally surrounded by a taro patch an observation tower, a long house for his kingdom's fleet of canoes. Also nearby along the waterfront is where the Hauloa stones are located. Believed to have mystical healing powers, these stones were visited by all those who sought spiritual and physical healing.
The age of whaling made a huge impact on the tiny seaside town. The more interesting sites associated with this period can be visited to this day. The two story Seaman's Hospital is located at the edge of town. Constructed of lava rock, it served United States merchant seamen. Another popular building was Hale Paahao. Located along Prison Street, this open air prison houses the unruly and unlawful.
A visit to Lahaina today will find it still much alive and bustling. Many come to explore this old capital of the Hawaiian Kingdom from nearby resorts and hotels to find an oceanfront setting with lots of character, ocean views of the neighbor island of Molokai. Others come to board whale-watching tours or board ferries for a day-trip to the island of Lanai.
Everyone has an opinion about Lahaina. Either bawdy or beautiful it's certainly a place that should be included in every Hawaii vacation.
Hawaii Travel Advice:  Free walking tour maps are available at the visitors center behind the Banyan tree.
Lottie Tagupa is a native Hawaiian, born and raised on the island of Oahu. She has been writing about Hawaii for over 10 years and currently lives in Waimea on the Big Island
Other Hawaii Travel Posts That May be of Interest