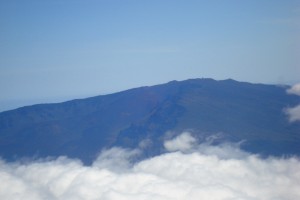 Haleakala – Two Experiences, One Volcano
Open 24 hours a day a visit to Haleakala can be an all day or all night affair. The National Park offers several activities that range from hiking past cinder cones and ancient lava flows at elevations of 10,000 feet to swimming in tropical ponds under a rainforest canopy.
Planning a day-trip to this large dormant volcano starts with deciding on summit or slopes first. Since planning the day for one experience is completely different than the other. A summit visit is by par the quickest and easiest of the two. The drive from the West Maui resorts can take up to two and half hours one way, while driving from the South Maui resorts of Wailea and South Kihei is about ninety minutes. From the Haleakala Highway, the road ascends slowly at first then continues up to the park entrance in a series of turns though upcountry towns, ranchlands and Koa forests. One inside the park the road narrows and the turns become even more challenging. Many choose to stop at the visitor's center before continuing up to the summit. The visitor's center offers a gift shop, restrooms and an overlook that provides sweeping views of central Maui. Aside from the shopping and views, many choose to stop to acclimate to the altitude. Although not at high at Mauna Kea on the Big Island, many will find the time spent here adjusting will bring benefits when up at the summit. Once at the summit, park rangers are positioned to provide a short lecture on the volcano. If it's a clear day views to include several neighboring islands will an added treat. On cloudy days, the above the clouds atmosphere and cool alpine weather conditions is a wonderful experience.
Visiting the Kipahulu area of Haleakala is more of a challenge. Access to the eastern flank of the volcano requires a drive along the Hana Highway. Popularly known as the Road to Hana, the drive consists of a  narrow road that crosses over forty bridges and offers scenic ocean views and several parks and waterfalls. From the Kahului Airport takes about two and a half hours each way. Once at Kipahulu, the Pipiwai hiking trail is one of the main attractions. A slice of rainforest fantasy it cuts though stands of bamboo, across fresh water streams. Many choose to swim in one of the several fresh water pools in the area. A stop at the visitor's center is highly recommended before heading out on the trail.
Haleakala is a varied experience that will provide memories for all who visit. Regardless if the preference is for summit sunrises or shoreline swimming, be sure to take along sunscreen, water and a cell phone for a safe day of fun and exploration.
Hawaii Travel Advice:  Novemebr 11 and 12 2011 are free entrance days for Haleakala.
Lottie Tagupa is a native Hawaiian, born and raised on the island of Oahu. She has been writing about Hawaii for over 10 years and currently lives in Waimea on the Big Island
Other Hawaii Travel Posts That May be of Interest