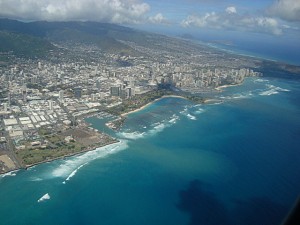 APEC 2011 – Hawaii Travel Tips
This November, Hawaii will be hosting the Asia-Pacific Economic Cooperation. The association is an organization of  several nations that work together for area economic advances. Along with island-born President Barak Obama, the heads of state of twenty-one countries and a host of dignitaries and business elite will converge on Oahu for a week of meetings, summits, and other activities. Although the official meetings are scheduled for November 7-13, related events are expected before and after the conference as well.
These meetings are by far Hawaii's most important business gathering and many preparations have been in the works months. Numerous palm trees have been added to Honolulu main thoroughfares. Waikiki sidewalks have been spruced up and streets have been resurfaced for this very important event.
Along with the public works projects, there are numerous security measures that have been put in place. Many of Honolulu traffic cameras will be commandeered for surveillance to insure the security of some of the world's most important people. No less than nine federal, local, state and military security agencies are in place on Oahu. These security teams have the authority to close streets, re-route traffic and screen individuals in the area. Security agencies will establish and secure a perimeter around the convention center that will be maintained throughout the conference.
Many may or may not know, that on a normal day, Oahu is a crush of traffic, narrow streets and busy intersections. Although access to Waikiki hotels, beaches, restaurants and shops will be accessible, delays and increased island traffic congestion will be unavoidable.
Aside from the normal island visitors, there is expected to be an increase of crowds that are planning demonstrations and protests.
For those who will be on Oahu during the meetings, allow extra time to get to and from Honolulu International Airport. Plan ahead for activities and have Waikiki restaurant reservations in advance. There will be Honolulu City and County public transportation and APEC shuttle services will be readily available for all during the meetings.
Lottie Tagupa is a native Hawaiian, born and raised on the island of Oahu. She has been writing about Hawaii for over 10 years and currently lives in Waimea on the Big Island.
Other Hawaii Travel Posts That May be of Interest