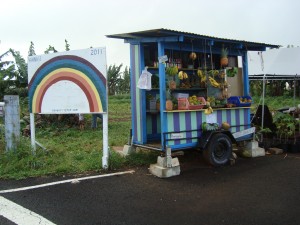 Honomu -Waterfalls Sugar Fields and Fruit Stands
A drive toward Hilo to visit the waterfalls and lush gardens of the Hamakua Coast will no doubt include a visit to Akaka Falls. Access to the falls is well marked from large signs along Hawaii Belt Road through the town and up toward the park entrance in the tiny town called Honomu. The park is especially impressive with a canopy of tropical trees covering a small fresh water stream and the white noise of the large waterfalls toward the rear. The park trail is well constructed complete with hand rails which makes it comfortable for those novice hikers, but those not experienced should allow for additional time to take the trail at an easy pace.
During Hawaii's plantation days, the Hamakua Coast was a burgeoning strand of sugar cane fields and field workers. Honomu was no different. The sugar fields are still visible along Akaka Falls Road where workers from Japan gathered to harvest sugar for America's sweet tooth
Today, Honomu's plantation origins are still apparent from plantation style buildings that house everything from boutiques to art galleries. One notable stop in Honomu is the Akaka Falls pit stop. Easy to find along the side of Akaka Falls Road, this tiny fruit stand is the perfect quick stop for a taste of the areas sugar cane and other fresh fruits including papaya, sour sop, apple bananas and even a freshly opened coconut. The fruit stand is a part of a family owned fruit farm that produces a variety of fresh produce. A visit to the fruit stand does not take much time, just enough to get a fill of the island bounty and perhaps gather a few tasty items for the vacation condo gourmet chef's dinner presentation. A visit to the fruit stand is a quick affair and completely family friendly. A quick turn into the parking lot will be rewarded with ocean views, roaming chickens and the friendliest service. But, be sure to bring cash, no credit cards are accepted.
Lottie Tagupa is a native Hawaiian, born and raised on the island of Oahu. She has been writing about Hawaii for over 10 years and currently lives in Waimea on the Big Island
Other Hawaii Travel Posts That May be of Interest